I Finally recieved my replacement Giesemann 230 Plus and just set it up. I also created an aquascape I'm finally happy with. However, I have to move January 18th so I'm holding off on adding any livestock with the exception of the existing 2x spiny astrea snails, 1 blue leg hermit, 1 nassarius snail.
Here are the tank details. This tank is going to be SPS dedicated:
TANK
Custom 24x24x18 rimless AIO cube with DIY acrylic false wall 6" from back (making the display area 24x18x18) - chambers behind false wall are an overflow area, skimmer chamber to keep water height constant and "sump" area for return pump, Phosban reactor, ATO float switches, etc. I also made a cap to cover the back compartments so the equipment is hidden.
STAND
DIY stand with 4 levelers in each corner. Magnetic front door with red acrylic facing affixed to wooden door.
LIGHTING
Giesemann 230 Plus Silver pendant hung from ceiling - Giesemann 13,000K 150W HQI, 2x24W Giesemann Actinic+
FILTRATION
Aside from the 30lbs of Fiji & Tonga live rock and shallow 1" sand bed there is a Tunze 9002 Nano DOC skimmer, Phosban reactor with MJ 400 and some RowaPhos. I made a custom/DIY filter sock attachment to mechanically filter the water as it flows over the overflow on the right.
WATER MOVEMENT
2xTunze 6025s modded and MJ 900 return pump hooked up to Hydor Flo rotating return
MISCELLANEOUS
JBJ ATO with MJ 1200 pump in a 5g bucket. Eheim/Ebo Jager 150W Heater. Elos test kits. Refractometer. Kent salt. Started dosing Vodka.
STILL NEED
I still need to get a LiterMeter for B-Ionic dosing, and a Neptune AC Jr controller.
PARAMETERS
Ammonia - 0
Nitrite - haven't bothered to test
Nitrate - 12 (expecting this to come down as the cycle continues)
pH - 8.2
Ca - 450
KH - 7dKH
SG - 1.025
Phosphate - ~ 0.07 (hoping this will come down with the cycle, Vodka, and RowaPhos
Mg - haven't bothered to test until I start dosing B-Ionic
Temp - 80F
I'm debating going BB when I move the tank because the 2xmodded 6025s are kicking sand around but the Tunze Nano Doc 9002 isn't a great skimmer for particulate removal so I don't think my skimmer will be adequate for BB. Any feedback would be greatly appreciated. My biggest hurdle is that the skimmer compartment was designed for the Tunze skimmer so there aren't a lot of skimmer that will fit. I may go with the EuroReef Nano skimmer when it comes out if it fits and the reviews are positive.
PICTURES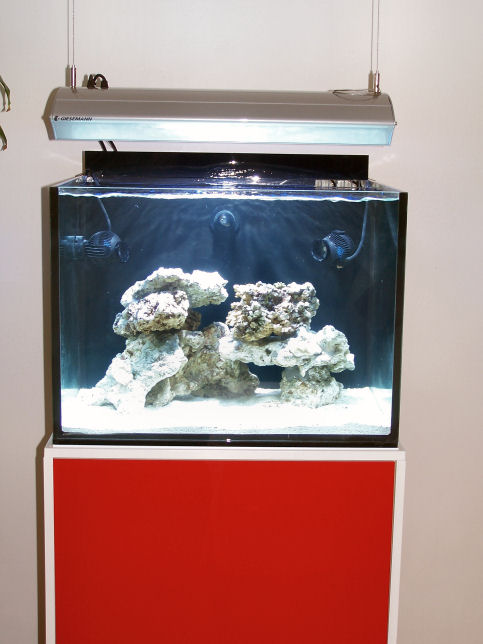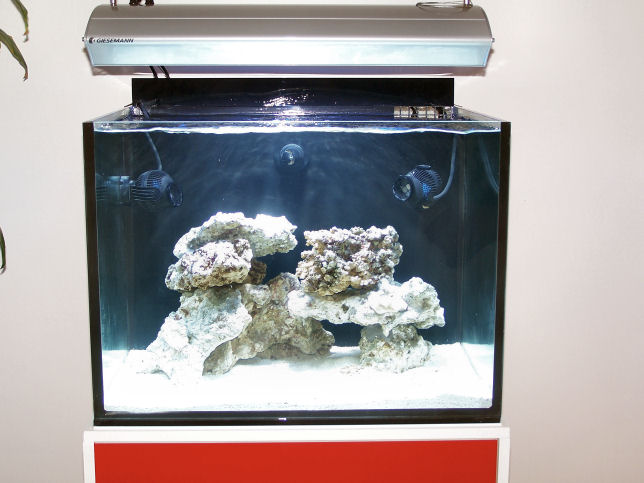 Any and all feedback is greatly appreciated